Our hair is usually the first thing that a person notices when it comes to our physical features.
A well-nourished, shiny hair always leaves a good impression, especially on women. It helps improve self-confidence, makes us feel more empowered, attractive and boosts our mood.
It also makes a huge difference and greatly affects our entire look. This is why keeping it healthy and beautiful is important.
With that, Brian K. Marks, founder of Dr. Miracle Brand, who has over 30 years of experience in the beauty and hair industry, has created various hair care products that are specially formulated to nourish, hydrate, and soften hair, leaving it stronger, healthier, and more beautiful. As well as products to provide solutions to different hair and scalp problems such as dryness, hair fall, breakage, unmanageable hair, and other hair concerns.
It is known for its "Feel It formula", where there is supposed to be a good feeling of a tingling sensation when used or applied.
If you're interested to know more about the best Dr. Miracle Hair Products, keep on reading.
HairsAffairs.com provides you a list of the best Dr. Miracle Hair Products to choose from to help you decide which hair care will best suit your needs.
Top 5 best Doctor Miracle Hair Products
Product Description
Perfect for Hot Oil Treatments. Dr. Miracle's Daily Moisturizing Gro oil is known to prevent hair from getting dry and brittle and it also helps promote healthy hair growth.
Its lightweight formula provides moisture and hydration without the heavy feeling.
It is made with Jojoba oil, which locks in moisture and adds softness to our natural hair. Vitamin A, which restores nutrients and shine, and helps minimize split ends caused by hair breakage. And Avocado, which stimulates hair growth.
Pros
Made with natural ingredients.
Formulated to support, strengthen, and softens hair
Ideal for people even with sensitive scalp
Lightweight feel
Squeeze bottle makes it easy to apply
Can be used daily
Cons
The smell is not that pleasant
Who is it best for
Ideal for dry, brittle hair
Product Description
Dr. Miracle's Leave-In Conditioner is a no-rinse product that is applied after shampooing and conditioning. This product helps prevent hair breakage by instantly detangling, nourishing, and hydrates the hair leaving it soft and manageable.
Blended with Aloe Vera, which improves hair elasticity, Coconut oil, which thoroughly conditions the hair, and Jojoba oils which softens and traps moisture.
Pros
Keeps hair soft, more manageable, and tangle-free.
Smells great
The non-greasy feeling when applied to the hair
Deeply moisturizes the hair
Contains Vitamin A, C, and E that can prevent hair from oxidative stress.
Made with natural ingredients.
Cons
Product a little runny
One size only, 8 fl oz
Who is it best for
Ideal for dry and tangled hair.
Ideal for curly and straight hair
Product Description
A 2 in 1 product that can be used to style and protect the hair. This product helps in holding the curl while moisturizing it to prevent split ends and hair damage.
It contains Biotin, a B vitamin that strengthens hair and promotes growth. Aloe Vera helps prevent hair breakage by providing more elasticity, and Olive Oil, which moisturizes and promotes healthier hair and scalp.
Pros
Helps prevent dryness, frizz, and flaking
Does not make hair sticky when applied
Great scent
The product is thick and not runny
Made with natural ingredients.
Cons
For some, needs more holding
Who is it best for
Great for those who want to style their hair without the greasy feeling.
Good for retaining curls
Product Description
Cleanse and removes dirt without leaving your hair dry.
This product is infused with Aloe Vera, Honey, and Coconut Water, for elasticity, moisture, and hydration for stronger and healthier hair.
Pros
Great scent
Leaving hair not too dry after wash
Removes 95% of build-up
Sulfate-free
Who is it best for
Can be used for normal to dry hair type.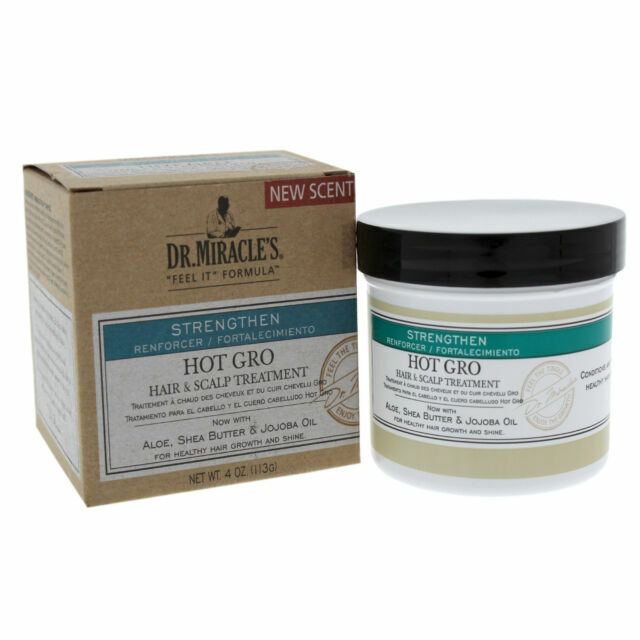 Product Description
This product restores and prevents hair damage caused by heat, styling, and other harmful chemicals. It helps hydrate and condition hair from roots to ends for healthy hair growth and shines.
Contains Aloe Vera that supports hair strength & restores shine, Shea butter intensely moisturizes hair and promotes healthy hair and scalp, and jojoba oil that seals in moisture keeping hair hydrated and nourished.
Dr. Miracle's Hot Gro Hair and Scalp Treatment is being applied directly to the scalp while massaging it gently to evenly distribute the product.
Pros
Encourage shiny and healthy hair.
Can be used regularly
Smells wonderful
Cons
For some, the formula is too thick
Might cause hair to be oily
Who is it best for
Ideal for dry, dull, brittle hair
What to Consider When Buying a Product
1. Ingredients
One of the most important factors to consider when choosing hair care products is their ingredients. Many products contain a lot of harmful chemicals that may result in damaging the hair in long-term use rather than getting the benefit that they are implying.
It is important to always read and check the label when purchasing. For example, Look for natural oils and natural formulas that are not harsh for the hair.
What's good about Dr. Miracle hair products is that they offer a wide variety of products made from natural ingredients.
2. Brand
It is better to purchase products that are manufactured by trusted brands with many positive reviews. As these products have already been tried and tested by many people.
You'll be more confident about its safety and benefits. Dr. Miracle hair products have been gaining a lot of good reviews about how it keeps hair softer and healthier.
3. Use
We have different hair needs. Be sure to choose products that would help best in alleviating your hair's main concern.
Dr. Miracle's hair products offer a wide range of options products to help address different hair issues. For example, if you have unmanageable hair try using leave-in conditioners, if you have brittle hair try you may try the Moisturizing Gro Oil.
4. Hair type
A product that works well for me might not work for you. Some may have dry and frizzy hair while others may have oily hairs. That is why it is important to choose the right hair care products that work for your hair regimen and type.
Always check for the product label when purchasing to know the benefit it offers.
5. Cost
Dr. Miracle's hair products offer a wide variety of products to choose from at a reasonable price.
Final Verdict: Which One Should You Buy?
All of the products mentioned above help provide soft, well-nourished, and beautiful hair.
What's even good about these products is that they are all made with natural ingredients and serve different purposes.
If you have dry and brittle hair we recommend Dr. Miracle's Daily Moisturizing Gro Oil, if you have unmanageable hair we recommend Dr. Miracle's Leave In Conditioner.
If you would want to style your hair without damaging it we recommend Dr. Miracle's Strong & Healthy Nourishing & Styling Gel
Always remember that choosing the right product will really depend on what your hair needs and hair concern.
If you like this article, make sure to check out our other articles at HairAffairs.com.