The fashion world is a whirlwind of ideas and trends. And one trend that caught our attention and stole our hearts recently is the blonde hair with dark roots. Therefore, we created a guide on how to blend dark roots with blonde hair at home.
This sassy look has been spotted with celebrities like Gigi Hadid, Taylor Swift, and Selena Gomez. It creates the illusion of having longer, thicker hair while maintaining a natural look.
So, if you want to learn how to blend dark roots with blonde hair at home, we've shared some steps below.
But before you break out the hair dye, let's first know –
What is Blonde Hair With Dark Roots?
Blond hair with dark roots is also known as root stretch. It blends the natural hair color in hairdressing to give an effortlessly no-stress, calm, and natural balayage look. The result is hair with darker roots and blonde tips.
This trendy idea is a beautiful alternative to balayage or ombre highlights because it is easy to style using heat tools, is modern-looking, looks good on most skin tones, and is low-maintenance.
How to Blend Dark Roots With Blonde Hair at Home
Step 1. Choose the right color for the roots
Before we begin the step of blending dark roots with blonde hair at home, you need to choose the right hair color that's the same as your roots.
And the nice thing about this technique is that it doesn't require much precision when dyeing your hair. If anything, it's the opposite. You can be as imprecise as possible to make the dark shade of your hair roots and your blonde hair grow in a well-blended look.
To choose the right color for the roots. You can either:
1. Choose your natural hair color – if your hair's natural shade is brown or dark blonde or somewhere in that range.
2. Choose a color that is two tones darker compared to the blonde in your hair.
Remember the color you choose since you will use the same to touch up when your natural hair grows out.
Step 2. Prepare your hair
Next, brush out your hair to ensure no knots that may make things difficult when you have to apply the color. As much as possible, make sure that you don't have any product in it, whether that'd be serums or hair masks, as they may lead to problems later on during the coloring.
Brush your hair and let it down. Once it is completely tangle-free, section your hair to make applying the dye to all root areas easier.
Step 3. Prepare your materials and the mix
For the third step, you should prepare the necessary materials. These include a color kit, a plastic container, a hair dye brush, and an old cloth or plastic to cover your body. Get a dye tube, gloves, and a developer in your dye kit. Mix the entire dye tube with the developer in a plastic container until it is mixed and completely smooth.
Step 4. Apply the mix/ hair dye
Like we've told you earlier, this is a simple step that you can do at home. Once the mixture or hair color is ready, you can apply it to your hair.
Take a section of hair and brush it with color on the demarcation line between the fresh paint and you're blonde. The secret is not to be too precise when applying the dye. Just brush the hair dye into your hair roots repeatedly.
With an application brush, sheep the dye up towards the roots and the blonde part (down). Again, there's no need to be precise in blending.
The more the irregular line is, the more natural the final look will be. The only thing you need to be careful of in this step is not leaving any section of your roots without a hair dye.
Step 5. Let the color cook
Once finished applying the mixture, wait for 30 to 40 minutes before rinsing your hair. You can also read the instructions on the hair coloring kit to know the exact time to wait before rinsing your hair.
Step 6. Rinse and dry
Once your time is up, thoroughly rinse your hair and ensure no hair dye is left. Then, you can wash your hair with normal shampoo if you want to.
Be gentle with your hair while passing it by using either lukewarm or cooler water. It's best also to use a shampoo and conditioner specifically made for color-treated hair.
[Related post: Best Shampoo for Ombre Hair]
To finish up, dry your hair with a blow-dryer on a low heat setting, but try to keep away from hot tools in the future as they can contribute to hair damage. And don't forget to apply a few drops of anti-frizz serum.
Next, let's check out the latest look for inspiration and ideas.
Hair Color Match – Blonde Hair with Dark Roots Ideas to Copy this 2022
Icy Blonde with a Root Shadow
A good rule of thumb when matching dark roots to blonde hair is to reduce harsh contrast. You should avoid pairing jet black roots and light platinum blonde hair without the correct technique, like the shadow root technique. Such a technique refers to a colorist stretching out the dye along the entire hair length of the hair to create a shadow effect.
Darky Root Caramel Blonde/ Bronde
The color technique called bronde fuses brown and blonde to create a beautiful sun-kissed color result. If you have never had color before or are scared of too drastic a change, this could be a perfect look to try.
Others call it toffee sweetness that looks lusciously good!
Warm Blonde with Small Dark Roots
If you want a boho beige to feel with beach vibes, then we suggest going for the warm blonde with a small dark roots hairstyle.
This effortless yet straightforward look can make your hair flip extra bouncy! This hairstyle looks great in a messy bun, air dried, and with beach waves straight.
This look is best for mid-maintenance gals (it only requires a baby light touch-up or a root smudge every 8 to 10 weeks) and those who want to feel extra bright.
Whether your roots are sprouting up darker, grayer, or lighter color and you're not ready to transition to your natural color, it's easy to do a complete DIY and do root touch-ups instead.
Golden Blonde Balayage
Copper and caramel tones are so appealing that they can instantly warm and brighten up your complexion. To determine how well the color will suit your look, first determine which brunette complements your skin tone – whether cool or warm tones work for you.
Next, play around with excellent or warm-toned red or caramel shades. If your skin is warm-toned, it's best to add pieces of warmth to your face. An easy method to know if cool or warm tones will work for you is to flip over your wrist and look at your veins.
If your veins are blue, this means you have cool undertones. If your veins are green or yellow, then you have warm undertones.
Classic Honey Blonde Ombre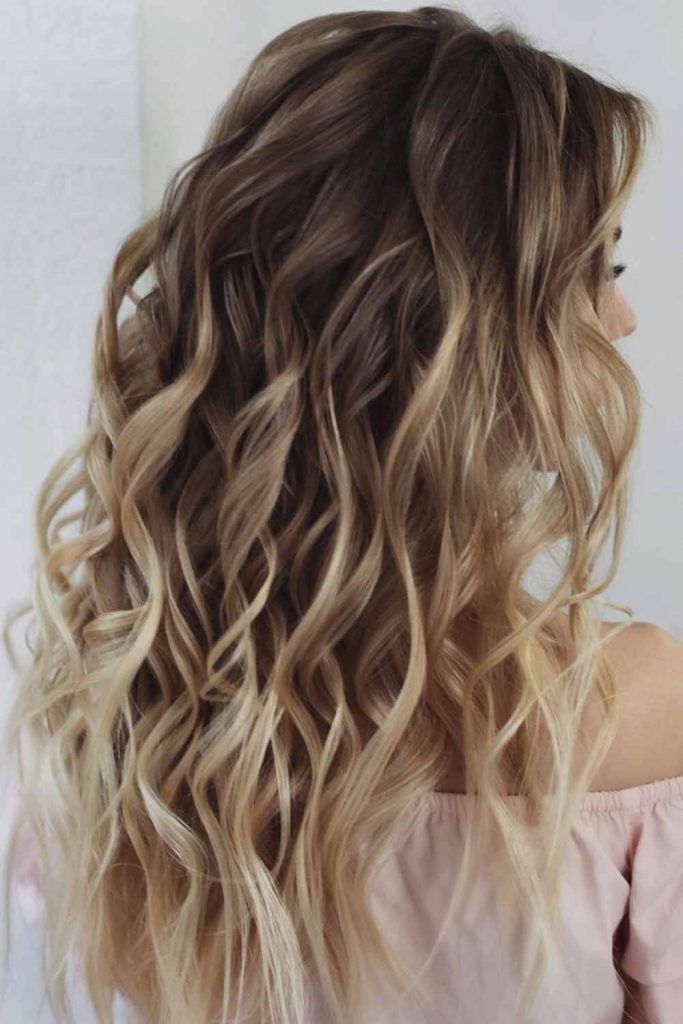 This high-contrast hair color is noticeably light at the bottom and dark at the top. For this color, an ombre technique can bring the dark roots down to the chin area and achieve a honey blonde gradient at the hair ends. You can also try using vinegar rinse for hair to keep your two-tone hair looking shiny at home.
Silver Blonde with Grown Out Darker Roots
Darker roots look so seamless, so we recommend this hair idea that you can copy this 2022. It can also diffuse the silver color so that it's hard to notice where the hair coloring started.
Lilac Blonde with Dark Root
Lastly, the lilac blonde with dark root is done with the balayage technique on the origins and topped with a touch of lilac. This hair color allows hair to have a cool pastel hue. For added dimension, you can style your locks with soft waves.
FAQs on Blending Dark Roots
What's the difference between a shadow root and a root smudge?
The critical difference between a shadow root and a root streak is that the color between the shaft and the root is typically more dramatic in a shadow root compared to a root smudge. Moreover, a shadow root can be much lower than the standard root smudge, which provides more depth to the final result when you blend blonde hair with dark roots.
How long does root touch up last?
Root touch-ups can last between two to eight weeks, depending on your hair regrowth rate. After this period, you may notice your hair has grown one to two inches, and this is the best time to do a touch-up and blend dark roots into bleached hair for more prolonged effectiveness.
If you want to create a fading effect from dark to light, you need to brush some parts shorter and some longer into the blonde. This process makes an irregular line, so you will see how the dark roots fade into the light blonde hair when you brush it out.
There are hair dyes explicitly designed for root touch-ups, although you can have more choice with regular box dyes.
How to go back to natural hair color from a blonde?
As long as you find the right product for your hair, choose a hair dye similar to your hair color so your roots will blend into your dye-colored hair. As a result, growing your hair won't be a problem anymore.
How do you hide regrowth in blonde hair?
Use dry shampoo or baby powder. If you don't have powders or chalks on your hands, you can make do with what you can find in your cupboard. Dry shampoo is made specifically for people with darker hair to hide the color, while baby powder works well on blondes. Avoid applying too much.
How do you blend a demarcation line at home?
It's the same as blending roots into bleached hair. Use a demi-permanent color within two shades of your hair's natural color and overlap the line of demarcation by at least one-fourth inch.
What are the benefits of blending dark roots at home?
Cost-effective
First of all, blending dark roots at home is affordable compared to going to the salon every week or twice a week.
Easy
The process is easy and even suits first-timers. You don't need to do it in a precise way or to be a pro to achieve the root blending technique effect. Just take a hair dye with the same shade as the natural color of your hair and use a hairbrush.
Color options
It's easy to incorporate different colors when you blend dark roots at home. So, when you get tired of the blond color, incorporate pink, lilac, and even rainbow colors on your dark roots.
Hair health
Root blending at home and even in the salon produces minor damage to your hair because it's easy to grow your dark roots compared to your bleached hair, which can be too damaging on root ends.
Get that Gorgeous Low-Maintenance Hair Colour
Now that you know how to blend dark roots with blonde hair at home, you can save your hard-earned coins, pick up the hair dye, and dye your hair without going to the salon.
Lastly, don't forget these three keys to successfully achieving that gorgeous, low-maintenance hair color: make sure you're wearing something comfortable, you aren't pressed for time, and have everything you need. All these considered – you're on the path to achieving salon-worthy results!
If you like this article, you might want to check our other articles at HairsAffairs.com.