I personally believe that every girl and woman with naturally curly hair should embrace their unique features and beauty. In fact, I consider curls as bouncy crowns of awesomeness!
This doesn't mean they shouldn't welcome the idea of trying out a different hairstyle, like using a hair straightener to achieve a sleek and streamlined appearance on certain occasions.
Unlike permanent straightening, the benefit of using a hair straightener is that it can get your normal hair back after the next wash. Other temporary methods of straightening your hair include the use of a flat iron, hairdryer, hair straightening brushes, or hot comb.
But remember that to avoid damaging your natural locks, choosing a quality hair straightener makes all the difference. At best, it should have controllable temperature settings or a technology that will help keep your hair in tip-top shape.
My recommendation as one of the best hair straighteners in the market today is the Hera Hair Straightener. Do note that this straightener can also be used by women to curl their naturally straight hair.
So, if you want to know more about the Hera Hair Straightener, keep on reading. I provide this in-depth review to help you know whether it's worth your money or not and whether it can really calm even the frizziest hair.
Product Description
Available in black, pink, purple, white, and turquoise colors, the Ceramic Hera Hair Straightener uses ion technology to repel humidity, seal the cuticle, and lock in natural hair color. There's also a dedicated LCD screen so you can easily read the temperature display.
As for its design, it's ergonomic for easy styling and comfortable grip. It requires 56 watts to function and can heat up to 450 degrees F.
It likewise features infrared heat technology so the heat can penetrate deep into the strands and straighten them from the inside out.
Since it is a ceramic straightener, it heats up evenly and reliably so you can straighten hair without the risk that there will be hot spots. The solid ceramic plates are also of higher quality than titanium because it reduces frizz and makes the heating plates smoother.
While titanium hair straightener delivers heat fast and gives superior results, the use of ceramic straightener ensures that your strands are less likely to pull. And since heat is evenly distributed, it means less hair damage. This makes this product one of the healthiest hair straighteners in the market today!
If you have thick hair, you can adjust this product in a higher heat setting compared to someone with fine or thin hair.
Pros
Easy-to-read LCD screen that displays temperature
Ceramic straightener minimizes hair damage and does not create overheat spots
Temperature control
Easy to use
HERA 100% ceramic solid ceramic plates
Safe
With negative ion technology to seal hair's natural moisture
Professional hair straightening effects even at home
Con/s
Few users said it may get too hot to handle
Is it worth it?
This is worth it if you are just planning to use it once in a while to achieve a smooth, sleek look. But remember that over time, the ceramic straighteners can still cause damage to your hair, such as making the strands brittle or extremely inelastic.
In-Depth Look at Hera Hair Straightener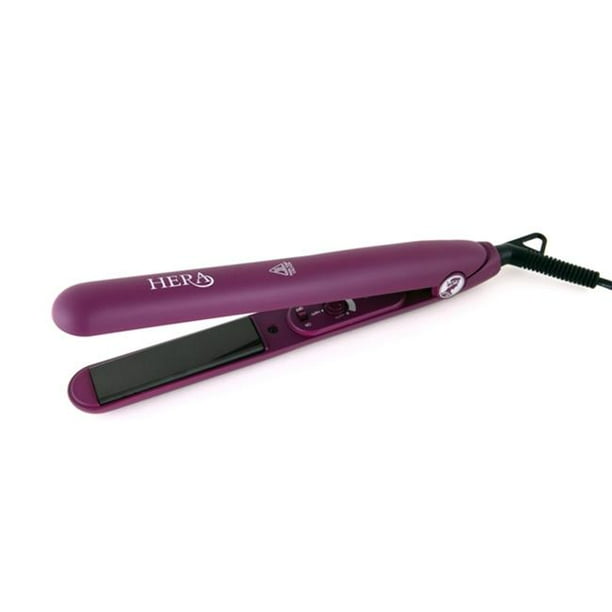 Specifications
Measures 11″ L x 1.5″ W x 1″ H
10-second heat-up
56 watts
Quality and Durability
This product is recommended for all hair types and is rubberized coated. It has an adjustable heat setting that allows you to heat to precise temperatures that will suit your hair care regime, hair type, or give you that effect that you want to achieve.
Warranty
This Hera Hair Straightener is covered with a 1-year warranty.
Interested? Purchase it here!
Who is it Best for?
Since this is a ceramic hair straightener, the plate is best suited for those with thin or fine hair, whether they want to straighten it or emphasize curls.
If you have color-treated hair, this product is also best for you because the cuticle of your hair is more open. Further, the inside of your hair strands are more exposed so straightening it or curling it using the Hera flat iron will be easier and you don't need as much heat!
This product is likewise ideal for practical women who want to straighten their hair without undergoing the chemical straightening process, which is not only expensive but can also potentially damage their already beautiful straight or naturally curly hair.
What Do People Say About it?
On Hera's main website, one customer left a comment. She said the product gives "instant results." "[It] gives me the nicest smoothest hair and let me tell you about the curls you can achieve with this thing."
But another customer said, "At first, I loved this straightener! It runs through my hair so smoothly, straightening it with one glide. I don't feel it pulling and damaging my hair with a lot of other straighteners.
The only problem, which is a HUGE one, [is] it has stopped working after only a month of use!… but it must have just been a coincidence because it has stopped working completely and it is easy for me to tell it is the wiring."
Amazon
There are not many customer reviews on Amazon, but one customer from the United States did not give a good review of the product, though. She said, "It gets hot outside the handle."
Wrapping it Up: Should You Buy It?
Well, yes. Investing in a good hair straightener can save you money in the long term. The Hera Hair straightener, to be specific, is an appliance that delivers everything you love when you're visiting your hairdresser without the ongoing inconvenience or cost.
Although it takes time to straighten your own hair, investing in this hair straightener will help you protect your natural hair from unnecessary damage and will give you that straight, frizz-free hair.
The way it is designed makes it simple to use and keeps your frizz under control. You may even use it to create a wave, bob, or crumpled waves. It's portable or travels without needing an assortment of hair styling tools.
So, give your hair the care it deserves by investing in a quality hair straightener, such as the Hera Hair product.
Similar Articles: